September 21st, 2004
There is a APEC TEL NGN Brainstorming session this morning. I was one of the speaker for the session and did a presentation on IP Telephony and ENUM.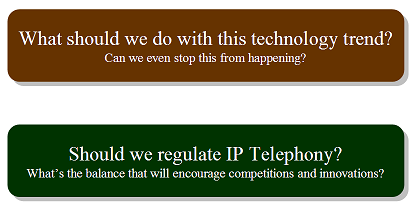 Singapore also made a contribution on both IP Telephony and Spectrum management. Both my presentation and Singapore contribution was well-received by the participants and I got a lot of feedbacks after the session.
IDA also announced a proposed policy framework for IP Telephony and ENUM this afternoon1 and it is open for public consultation! It is a long journey for our virtual team who has spend over a year on this!
As part of its continuing efforts to engage the public in policy development to benefit the infocomm industry, the Infocomm Development Authority of Singapore (IDA) seeks views on the policy framework to facilitate the introduction of Internet Protocol (IP) Telephony and Electronic Numbering (ENUM) in Singapore…more…
Some highlights:
1. IP Telephony will be classified under SBO(Individual) license instead of the more heavy FBO license.
2. Licensee is entitled to apply numbers in a new number block +65 3xxx xxxx.
3. Optional interconnection with PSTN, no QoS, no emergency service and no universal obligation.
It is as light touch as you can get … :-)
1 In other words, it is not announced by me.
2 There is also a short explaination of IP Telephony & ENUM.