June 7th, 2006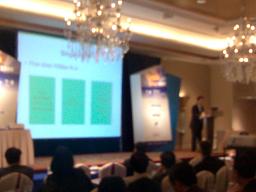 If my weekend trip is crazy, my trip to Hong Kong is worst. I got notice to fly to Hong Kong with less then 24 hours notice, then a delay in a meeting yesterday caused me to missed my flight and there is no more flight to Hong Kong. So I end up buying a red-eye ticket to Macau, then took the first ferry to Hong Kong. Crazy but here I am at Shangri-la Kowloon.
Anyway, I am fuming right now! And as we all know, this is the best time to blog and probably getting into legal trouble.
So I am here in Shangri-la for the Wimax conference. One of the speaker is Mr. Chan Kin Hung, SVP of Starhub who is giving a talk on wimax from a mobile operator perspective. In summary: "There is no business case for Wimax" and he repeat that through out his 30mins talk as he made comparison to HSDPA.
Now, I don't disagree with what his analysis. In fact, I find it very well thoughtout and presented and I agree, it is indeed difficult for Starhub to make a business case for Wimax in Singapore.
What I am so angry about is that if Starhub) don't see a business case for Wimax, then WTF do they bid (and won) for 2.5Ghz auction when it could be better used by other smaller operators? In fact, Mr. Chan himself concluded that Wimax is more suitable for alternative operators.
Something is obviously wrong when spectrum (and something as valuable as 2.5Ghz wimax spectrum) goes to someone who dont want to use it in the way it was intended and deny others who does.