May 27th, 2006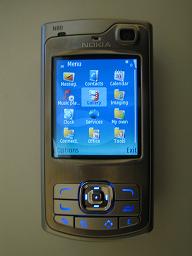 Finally went to Singtel shop yesterday and upgrade my SIM to a 3G USIM card. At the same time, I also got myself a brand new phone, Nokia N80.
So far, it is like the Series 60 phones that I had before so I am pretty at ease with the interface. Most important of all, the N80 comes with WLAN so I can use my home wireless lan or hotspot. It also comes with the new Nokia Open Source browser. I tried using it with GoogleMail (Mobile) and it works out very well. So far I am impressed.
Transfering contacts was also a breeze with the new transfer tool provided by N80. The apps provided allows me to transfer contact info from my old phone to this one via bluetooth directly. It was amazing…never had I got all my contacts over to a new phone so quickly.
I am going to try some of my staple Series 60 apps I use from Lonelycats, particularly their profimail (a much better email client) and smartmovie (xvid player :-) later today. I dont forsee much problem (except the upgrade in the processor which would help smartmovie a lot :-)
There is only one complain: They changed the power plug for the phone so it is not able to use the standard Nokia charger. They are nice enough to provide one converter but why change it in the first place? They just rendered my 7 chargers I had useless* >.< * Okay, not so useless since my wife still can use it with her Nokia 8800.
** The another phone I wanted is the Nokia E61 but they dont have it then.