September 22nd, 2005
The Blogger Panel was a smash – they schedule it as a main session rather than a breakout session which means we have much more audience than last year. Andy was a great moderator and my fellow panelists didn't hesitate the take any questions, even the tough ones like why are we qualified to be up there :-)
I didn't have the chance to take a shot at the "China story" but we have many other interesting discussion like what will shape the VoIP industry in the next two years – more start-ups, more mega buyouts, more innovative applications and more regulations. The last is mine and Jeff jump at it the moment I said the word "regulation".
After then panel, we got together for dinner and debate never stop :-)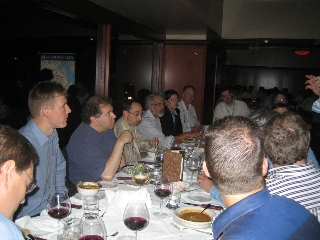 Oh yes, David Isenberg joined us for dinner. I was sitting at the other corner with David, Tom, Aswath.