June 3rd, 2005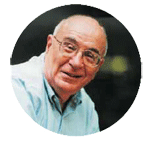 SMU, working with my group in IDA, is organizing a public lecture by Dave Farber titled "The Technical and Societal Implications of Networking" on 22nd June.
Involved with networking for over 45 years, Professor Farber has provided extensive guidance and advice on areas of high performance computing, communications and IT. In the year 2000, he served as Chief Technologist at the U.S. Federal Communications Commission ( FCC ). He was the recipient of the 1995 ACM Sigcomm Award for life long contributions to the computer communications field. In 1996, he was awarded the prestigious John Scott Award for Inventions that have contributed to Humanity (previous recipients include Madam Curie, Thomas Edison and The Wright Brothers).
Do not miss the opportunity of the life time to meet the Grandfather of Internet! Registration is now open but do it fast because we only have limited places.