March 13th, 2005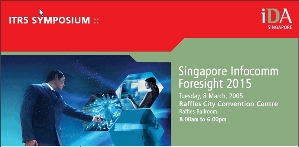 While I am in US this week, IDA1 concluded our 5th Infocomm Technology Roadmap (ITR5)2.
The Infocomm Development Authority of Singapore (IDA) today unveiled its fifth and most significant Infocomm Technology Roadmap (ITR5) to date. This inaugural 10 year Technology Roadmap discusses the next era technologies such as sensor technology, biocomputing, nanotechnology and other emerging technologies and provides insights into how these major revolutions and evolutions in infocomm will help to grow the infocomm sector and build a well-connected society.
Traditionally, ITR is event we organized to share our findings of how infocomm technology is going to developed over the next 5 years. But ITR5 is very different this time round -We're looking at 5 to 15 years into the future and looking at how nanotech, biotech and infocomm is going to come together to shape the future for Singapore. Hopefully, this will help Singapore companies adapt and leverage on this broad trend and to bring such services for Singaporeans. (Any wonder why we took the number 1 spot? :-)
We also have many distinguish speakers including John Seely Brown, former Chief Scientist of Xerox, Paul Reynold, CEO of British Telecom, Dr. Tan Geok Leng, CTO of IDA. Before I left last week, I think we already have 600+ sign up. (I was told ~800 turn up in the end :-)
So while I really enjoy VON, I also kind of sad I couldn't attend this event back home.
1 More specifically, Technology Group of IDA, the division I am working at.
2 See also ITR5 homepage. Slides and the report itself can also be downloaded from here.