February 24th, 2005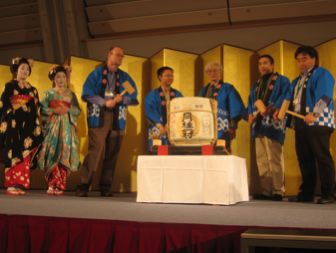 Took most of my morning trying to do my presentation for the evening while sitting thru Asia Pacific IPv6 Summit. Sad to say, looks like IPv6 isn't moving here as much as we want…I guess we have to keep trying. I escaped presenting at this summit this time because I really dont have much update on IPv6. I wish I could do more for IPv6..do something like APEET trial for IPv6 but what?
Then went to lunch with APRICOT MC meeting discussing various issues including APRICOT 2006 and 2007. Heated meeting but I am glad we reach some conclusion.
Ran over to meet Meng Wong who is giving a talk here on Unified-SPF. Spoke a little bit and will try to catch up with him more tomorrow..or some place. I missed his talk as I was scheduled to give a speech on VoIP at a Internet Telephony keytrack.
I was asked to do some funny Japanese ceremory to break some sake and kick off the social night. Later the evening, Philip gladly announced to everyone that we have select Bali as the venue for APRICOT 2007. Perhaps my trip report on my Bali visit help a little bit but I think they really deserved it. I look forward to APRICOT 2007 in Bali. :-)