May 8th, 2007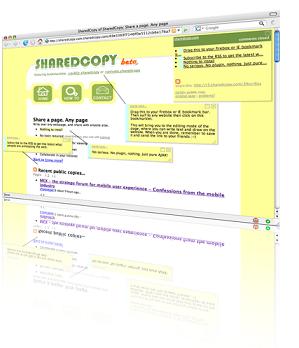 I have been working with Choonkeat on a "stealth" project for a few months now: SharedCopy. It is not exactly "stealth" because we open it for testing quietly a month ago to a few friends. Also quietly, we acquired users from the chinese and spanish (??) community. But yesterday, we got featured on Killer Startups so there goes the stealth mode.
What is SharedCopy?
It is an web application that allows you to annotate & markup any website, made a permanent copy of that page and then share it with your friends. Above all, we do it without any external program or browser plugins, just pure AJAX. :)
Check out this link to see how it works.
To me, it is some sort del.icio.us + tinyurl + annotation + google cache.
Instead of just sending links to people, I highlight the section I want them to read using sharedcopy and then send them the shorten URL.
If I am worried that a particular webpage or resource would disappear after I link to it on my blog, I save it as a sharedcopy the page and blog that (dated copy) instead. It ensure that the link will always work, showing what the page looks like at the time I blog it, which is kind of cool.
This also open up a can of worm because the same feature can be used to share paid content e.g. NYT… (ah, we worry about the legal issues later)
Like del.icio.us, you can see what I have shared and of cos, subscribe it.
For the geeks, we have APIs and some demo, like how to integrate it with Twitter and Basecamp.
We are pretty excited about the project. There are several feature request and there are a lot more we wanted to do on the site. In the meantime, please give it a try (registration is free) and let me know what you think :-)