October 11th, 2006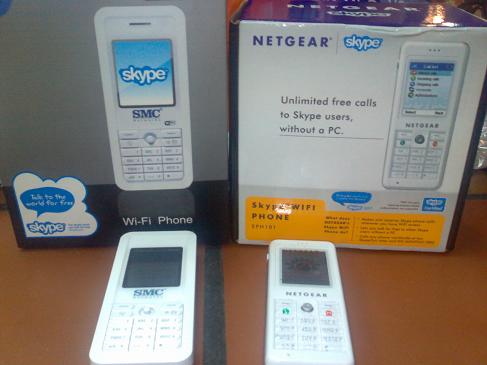 Just bought these babies…couldnt wait to blog about them. They are the standalone wifi skype phones from SMC and Netgear. Yep, standalone, ie no need for PC to work. In other words, I can use them in any hotspot. Yeah!!
Original I thought Netgear and SMC are from the same manufacturer as reported in Gimozo but apparently I was wrong. But for those interested, the SMC (and Belkin) version are made by Accton, a taiwanese OEM manufacturer who made these phones in their Shenzhen factory. I wonder who made these Netgear phones.
First impression is the Netgear is better. It is slightly smaller, heavier and feel more like a mobile phone. The SMC/Accton version feel a bit "plastic" ("cheaper").
Update: Okay, the SMC/Accton phone is buggy as hell. It complains about outdated firmware but the autoupdater dont work. It hangs whenever I tried to make a call out. The Netgear phone however is wonderful! Everything works out of the box! (Altho I wish they were more patient with the DHCP before they complain the network is not available)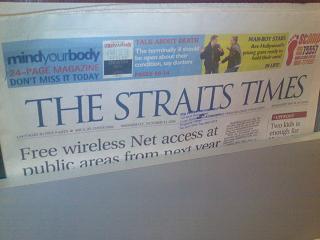 In an unrelated note, I saw this piece of news headline at Funan today (I just touched down): "Free Wireless Net access at public area from next year"
It is old news and reported several times. I want to mention it because it is really ironical that I am sitting in Funan, the IT hub in Singapore and, get this, I can't get any wifi access.
Nope, not even those paid ones I have from Starhub or Singtel. Zip, zero wifi network I can hook up. I tried in all the different spots in Funan and nothing. In the end, I have to use my 3G phone to post this :P So much for "wifi in Singapore". In KL, at least I know I can get reliable wifi access in any Starbuck.
Whining aside, the significant of "free wireless net access" and the "wifi skype phone" is not lost to me.
However, given that whoever roll out this "free wireless net access" is likely one of the current operators, I am willing to bet that they will be doing their best to stop this happening. It could be as simple as implementing some very seldom used wireless authentication (e.g. EAP-LEAP) or worst, requiring some special authentication software to be downloaded to your PC before you can use the network.