June 21st, 2006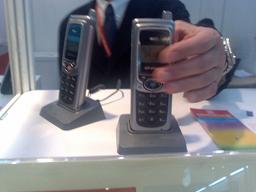 Plenty of meetings today, almost back to back, scheduled and unscheduled. Sadly, it also mean I missed a few meeting with some vendors…my apologies.
Anyway, in between my meetings, I managed to grab some snipplet of some interesting stuff.
1. WiFi SIP Phones or rather the lack of it. The only one I saw on the right. As you can see, the sale guy was trying to prevent me from taking a photo of it. If you are here for an industry exhibition, please explain the logic why you allow people to see but not to take a photo? Afraid that someone copy your idea? Flash News: It is a bloody SIP phone. There are hundreds of Taiwanese manufacturers making these.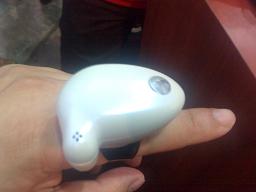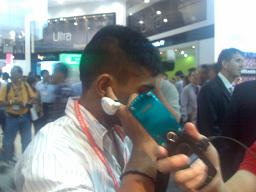 2. The phone ring (NTT Domoco) must be the coolest gadget, definitely on my wanted list. It is small bluetooth device which you wear it on your finger like a ring. You answer the phone by plugging your finger into your ear. No kidding. And yes, it works.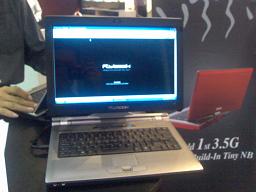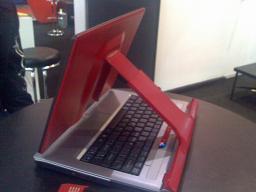 2. Flybook VM got to be the coolest notebook I seen. It is actually a simple notebook but you can pull out the screen to turn into an iMac-like form factor. The sale guy told me it is designed to be airplane friendly; if you imaging how it feels like sitting at a back of a guy who insist on putting his seat fully backwards while you trying to work, you will understand why this is so cool. Oh, it is also thin (25.8mm) and lightweight (1.64kg) with 3 or 6 hrs battery.
They also have another very small form factor notebook on display, the Flybook V33i, which I unfortunately forgot to take a picture of. Beside being a 8.9″ traveler notebook, it comes with build in 3.5G WWAN supporting HSDPA/UMTS/EDGE/GRPS/GSM. This got to be the first HSDPA notebook I seen in the market! The estimate retail price is also fairly reasonable, at US$2,500. Considering HSDPA PCMICA card is going for US$800-US$1,000 retail, this is a bargain!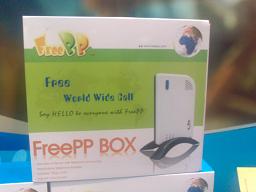 3. On the product & service side, there is a Taiwanese company that is trying to provide a Skype-like service called FreePP. The difference is there is a hardware focus of it, allows you to buy adapters or phones which you can "plug-and-play" for both home and entreprise use.
On a related note, I drop by Qool Lab booth to check out their Qool Skycube, a Skype adapter. My friends at Skype Journal tested it a few months ago and was impressed by it. I was more impressed by the design than by the features tho. (Okay, maybe I am just jealous. They sent one to Stuart to review all the way to US but not to me in Singapore? :)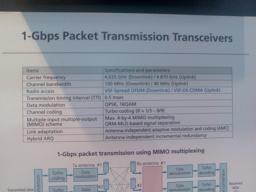 4. Last year, many people heard about NTT hits 1GPS in their 4G trial but has very little info of how they did it. They finally unveil some technical info on their trial (click on the picture on the right to enlarge). Downlink using 4.635Ghz, 100mhz channel and uplink using 4.870Ghz, 40mhz channel using VSF-Spread OFDM (Variable-Spreading-Factor Spread Orthogonal Frequency Division Multiplexing) and 4×4 MIMO antennas. No info of how they did 2.5Gbps trial tho.