June 16th, 2006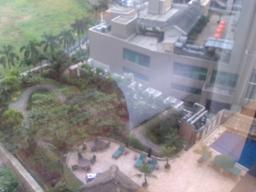 On my way back to Singapore for CommunicAsia next week, I decided to drop by Jakarta, staying at Marriott again.
…Okay, that is oxymoron ;-) Anyway, I am here for a day before pop'ing back to Singapore tomorrow.
Incidently, if you notice the increase of the use of photos on the blog lately, well, say hi to my Nokia N80 thanks to the 3 megapixel camera. So far, I love the little device, except a few minor complains like (1) the phone crash (2) the browser crash (3) the apps keep running out of memory (4) connecting to WLAN may fail and crash, and end up sucking up all your battery.
And oh, I found out the phone has a new firmware upgrade which suppose to fix (some of) these problem. So happily I went to a Nokia Care center last weekend, waited an hour for my queue number only to be told the firmware upgrade will take FOUR (4) hours. What a great customer service Nokia is providing!
Other then these, it is a pretty niffy device. I love it!