November 24th, 2005
I installed Google Analytics on several of the blogs I managed. So after collecting data for a week, it gave me some nice charts and one of them look like this: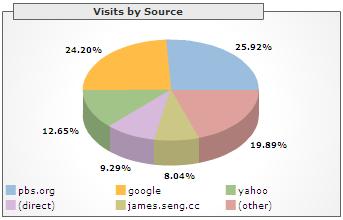 Pretty cool but I was wondering why I am getting so much traffic from pbs.org. So going through my logs, I discovered one of my (very) old entry on Internet Peering was featured by I, Cringely Link of the Week. Wow, thanks!
Anyway, if you haven't install Google Analytics, I highly recommend you to do so. It is a nifty little tool.