June 17th, 2005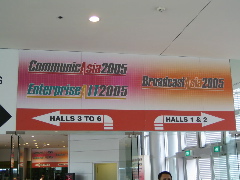 CommunicAsia 2005 finally ends today. After spending a few days running between Raffles City Convention (where they have the conference) and Singapore Expo (where they have the event), and given they are 30mins drive apart, I started to question the IQ of the organizers. But other then that, it has been a great event.
CommunicAsia 2005 is huge, much much larger then last year. It occupies all the six halls in Singapore Expo. To get an idea how big, if you are one of those who attended VON in San Jose Convention Center, multiple the size by a factor of three.
Of course, such a big event means everyone is doing their best to attract attention.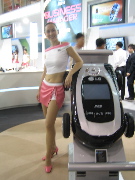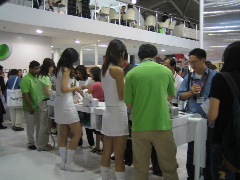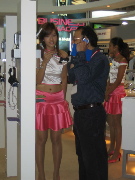 But these excites me more …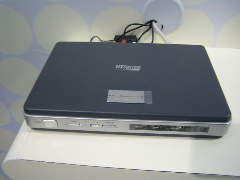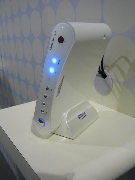 Yes, IPTV or Television over IP. From solution providers to equipments manufacturers, IPTV is the current buzzwords this year. VOIP? Sure, we have a big announcement Singapore IP Telephony framework, the fact is that VoIP is everywhere on every booth in CommunicAsia as if it is already a given. Even incumbents (I am not naming here) whom I am very certain do not have any VoIP strategy have a brouchure on VoIP offerings.
Anyway, step aside VOIP because IPTV is the new hype. Triple Play is coming to an operator near you. Technical IPTV isn't difficult, you can do multicasting, or streaming over RTP or even doing P2P torrent-TV. You can even build your cheap one with a front-end & back-end MythTV if you like ;-) But one barrier before was the cost of CPE which cost US$500 or more. Today, one vendor quoted me US$120 and willing to go down as far as US$80. That's a sweet sweet price point for a CPE. I wish I haven't spend so much time on VoIP and neglected IPTV. Time to play catch up here.
Oh, another thing that surprised me was Thailand. Led by their Software Industry Promotion Agency, they bought a group of Thailand made mobile gaming companies to exhibit here.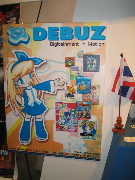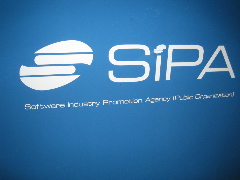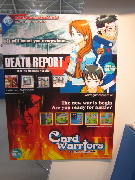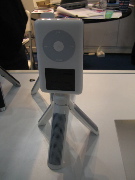 I remember coming across some very talented game developers for Palm in Thailand a couple years ago but I have no idea it bomb into a huge industry over there in Thailand now. In fact, some of the games are very good (quality-wise). Unfortunately, a lot of the games are just old Japanese genres (RPG mostly) except it is written in Java for mobile phones. But it would be a matter of time they will have original ideas. Something to watch out for.
Oh, another interesting find … A tripod portable speaker for your iPod or any MP3 players for that matter from Korea :-) Isn't this it a cool idea? The tripod can be fold and put into your pocket and when you need it, just open it up and put it on the table. Of course, can't compare to the Boss speakers for iPod in sound quality but they are retailing this at US$40. (They were here looking for distributers..They quoted me US$18 a piece for 1,000 units :-)
Two more things of interest : Huawei is here big time! They are also no longer the "cisco-wannabe". In fact, they now made every possible telecom devices you can think off – from IPTV to VOIP to mobile phones, from SS7 to IMS, you name it, they have it. You would never imaging a China company here 5 years ago. And lastly, a cool chart to show the growth of i-mode in Japan :-)