March 15th, 2005
I am now in San Diego for O'Reilly Emerging Technology Conference. I bang into Marc Canter on my way to the registration. Marc is the co-founder of Macromedia but he is really more well-known as a "connector" – he is a social animal who literally knows everyone! We spoke a bit – need to get him to come to Singapore one of these days.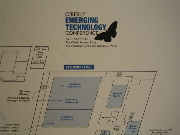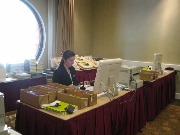 Went to #etech @ freenode.org and arranged lunch with Allan (aka cybaea) who is a founder of a very interesting Business Consulting group in UK on helping organizations manage disruptive technology innovation.
Oh yes, look at what CarBot folks did to a (Mac) Mini Cooper!