March 10th, 2005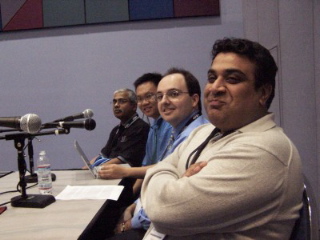 I have a lot of fun at the VoIP Blogger session with Andy Abramson, Dan Brekke, Jeff Pulver, Om Malik, Aswath Rao and Tom Keating. I am also pretty amazed at the numbers of people in the audience who read blogs and also blog themselves. Particularly, it is quite clear that most people read our blogs because they find they get faster news then technology media.
The only regret I have is that we have not enough (voip) bloggers in Asia. While I travel often around Asia for my work and able to give some insight of whats happening over here, things are moving so fast here that I think we need more Asia VoIP bloggers.
Incidently, I started reading some Chinese blogs site regularly. And yes, they support RSS and they have some pretty good RSS reader in China like 周博通. Much better then any of the English RSS Reader on Windows so give it a try.