August 8th, 2004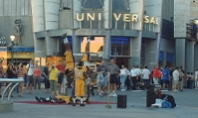 I attended the BoF on URI. The discussion on lower barrier on IANA registration on URI scheme sound scary to me, esp the protocol identifiers are been exposed to end-users. And if it expose to end-users, you never know what creative things they will do with it. Yet on the other hand, I agree with Ted we need to lower the bar so we dont end up with undocumented but widely used schema like itms:// or conflicting mms:// usage.
I took an earlier flight to LA today and plan to stay overnight in LA to take a flight back to Singapore tomorrow. I been to LA a couple of times and never could say I actually visit LA since all I see are airport terminals and hotels. So I decided to join a short tour, having dinner at Universal Studio and visiting places like Hollywood Bl. Now, I can proudly claim I did "seen"1 LA :-)
Hey, guess what? I just realize I just turn 30 years old 10mins ago! I officially join the 30 something club from now on. Damn, I feel I am getting old…
1 or as much as one could see in 2 hours which isn't much :P Someday I got to come back here and do a proper tour.