May 11th, 2020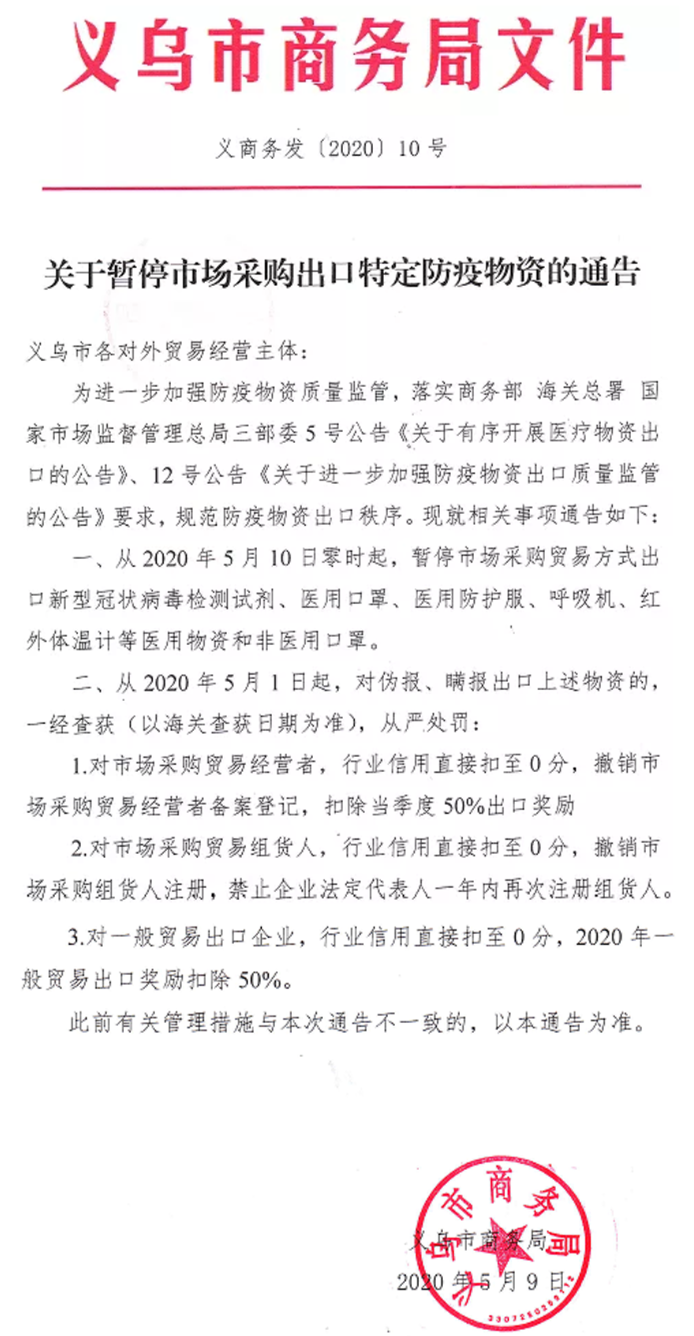 This is part of the series of posts on buying medical supply from China
Part I – Buying KN95 masks from China
Part II – Buying surgical masks from China
Part III – Buying Ventilators from China
Part IV – Medical supply from China and my role
Part V – Buying Rapid Test Kits from China
Part VI – Yiwu market shutdown for medical supply
Quick translation: As ordered by Yiwu government, Yiwu market exporters are not longer allowed to trade on medical supplies like respirators, surgical masks, gowns, ventilators, temperature guns, etc starting from May 10.
Thank goodness! It is about time! Almost all the low quality PPEs and counterfeit medical supply are exported from Yiwu market.
So when FDA announced "Certain Filtering Facepiece Respirators from China May Not Provide Adequate Respiratory Protection – Letter to Health Care Providers" on May 7, reducing the numbers of China made KN95 masks from 60+ to mere 14 factories, I was not surprised. Some of my contacts are scrambling to unwind the orders or figuring out what to do with the consignment they had.
In the meantime, some Chinese friends were wondering if the move by FDA is political, to retaliate against the Chinese government. I explained to them that as far as I know, it is not – it is based on merit of quality. Chinese need to do more to stop these unscrupulous traders selling low quality PPEs.
I was worried the Chinese government might retaliate FDA action but thank goodness, there is still some sanity in the Chinese system and instead, we got this Yiwu market order. Great move!
To be fair, the Chinese government did tried to curb the low quality medical supplies. MOFCOM Regulation No. 5 issued on March 31 was an attempt to stop these low quality medical supplies to go out of China. (Related: MOFCOM Regulation No. 12 on April 12).
The National Medical Products Administration also created a website to maintain a list of qualified medical supply manufacturers.
For most part of April, they have also quietly gone around shutting down many "factories" producing low quality masks and gowns. One story is a small family-run mask production line were chucking out 10,000 KN95 respirator a day which they sells for 3-4 RMB a piece. Making 50,000 RMB a day for a family business in a small village in China is pretty good. But they were asked to stop by their village cadre.
For these masks to be so cheap, there has to be factories masking cheap raw material as well. The Chinese government also went into shut them down.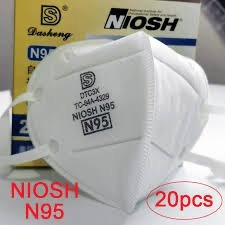 The side effect is that this cause a shortage of one of the raw material for many medical supplies, meltblown polypropylene fabric (or commonly known as SMS fabric). The SMS fabric from Sinochem went from 280,000 RMB/ton to as high as 700,000 RMB/ton in the last few weeks.
As a consequence, surgical gowns (AAMI Level 2/3/4) in China price went up significantly as well. So did the KN95 respirators and surgical masks.
Hopefully things will be back to normal in May.
Bonus: Anyone can tell me what is wrong with this NIOSH mask from Dasheng? Email me if you know the answer.